Three Great
Raffles
Happening
Right Now!
Win 2 tickets to Disney's Frozen the Broadway Musical
Win 2 tickets to Harry Potter & The Cursed Child on Broadway
Spring 2018 Raffle / 10 winners will be chosen
CLICK HERE to view the raffles and to purchase your tickets
Choose one, two or enter all three!!!
Your support helps us to save lives!
---
We are a nonprofit animal rescue, education and advocacy group. Our organization strives to elevate the societal value of animal life through various activities including:
rescue and placement of unwanted animals
provision of necessary medical care
promoting trap-neuter-return (TNR)
adoptions
support for and collaboration with individuals and other animal welfare organizations
education of the public on the importance of sterilization, basic animal care, humane treatment animals, and the value of animals as an integral part of our society.
***WE ARE NOT A SHELTER***
We are a rescue organization and our animals live in foster homes until they are adopted. If you are interested in becoming a foster parent please contact us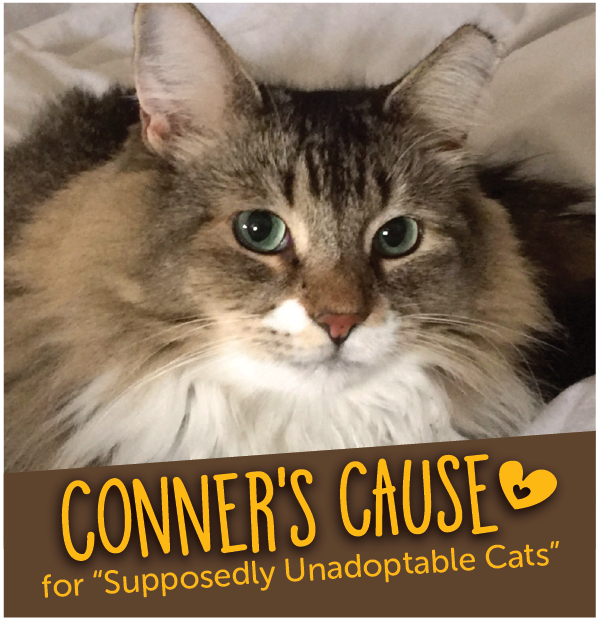 While we do not have a physical shelter, we have partnered with PetSmart, at 1600 Marcus Ave, New Hyde Park, NY 11040, to provide housing for many of our adoptable cats.
You can stop by and meet them whenever you want!
We hold adoption events at the following locations:
Petsmart – 1600 Marcus Ave, New Hyde Park, NY 11040
(3rd Saturday of every month)
Unleashed by Petco – 61-23 190th Street, Fresh Meadows, NY 11365
(1st Saturday of every month)
Our schedule is subject to change so please check with us before you come.
Our animals can be found on www.petfinder.com.
We encourage you to visit this site to view ALL adoptables and help animals find a loving forever home with you.
OPEN YOUR HEARTS TO SUPPOSEDLY UNADOPTABLE CATS

We want to change the public's perception of "adoptable cats". We are strong advocates for an entire class of cats that we lovingly refer to as "supposedly unadoptable cats". Please visit the "Conner's Cause for Supposedly Unadoptable Cats" page.
PLAN AHEAD FOR A LONG LIFE FOR YOUR PET
EVEN IF SOMETHING HAPPENS TO YOU
A major educational focus of our group is to bring attention to the ever present need to have advance emergency directives in place for your pets. Please consider, if you haven't already, WHAT HAPPENS TO YOUR PET IF SOMETHING HAPPENS TO YOU?? Please click on the page labeled "emergency directives for the care of your pet" for important information about this topic.