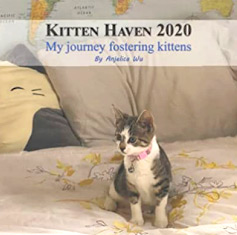 Kitten Haven 2020
My journey fostering kittens
By Anjelica Wu
Click Here to View and Purchase Book
Our very own Angelica Wu wrote a book about her experience with fostering kittens and cats for Give Me Shelter Project!
At only 15-years old, Angelica, along with her younger sister Sabrina and her father James, has fostered a total of 24 kittens for us. The book is wonderful! It's a photographic journey complete with stories, fun facts, and advice.
Angelica immersed herself in this project while she was home bound during the COVID19 pandemic. She had a lot to share given all she learned about the world of cat rescue including socializing, addressing medical needs, and preparing cats for adoption. We hope this book touches people far and wide and encourages them to volunteer for rescue groups as well.
Angelica decided the sale of this book is a good way to help us fundraise. All proceeds will go to Give Me Shelter Project. We are very impressed with her dedication to our work and her generosity.